14 September 2017
MUNICH by
Robert Harris (Hutchinson £20)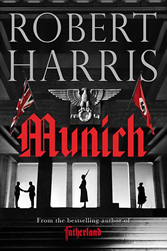 For his twelfth thriller, Harris returns to the rich seam of history that inspired his first hit, Fatherland, where he imagined a scenario in which Hitler had won World War II.
Harris displays all his gifts again as he recounts Neville Chamberlain's visit to Munich in September, 1938, when the then British Prime Minister was anxious to avoid war.
With exemplary research and the addition of two fictional old Oxford friends on opposite sides of the diplomacy (the thriller element), Harris portrays Chamberlain in a far more favourable light than he is usually cast by opponents of his appeasement with the Fuhrer during those dramatic days.
The tall figure of Chamberlain waving his piece of paper at the foot of the aeroplane steps is brought superbly to life. But it is the story of his negotiations with Hitler that grip, casting him as a formidable, almost heroic, figure.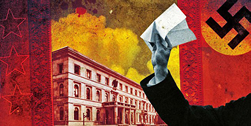 14 September 2017
A LESSON IN VIOLENCE by
Jordan Harper (Simon&Schuster £12.99)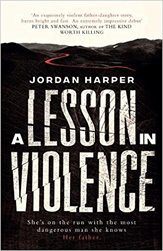 This is one of the most striking debuts I have read this year. Visceral, violent and utterly compelling, it nevertheless shines with humanity.
An 11-year-old girl called Polly goes on the run with her brutal father Nate, who has just been released from jail with a price on his head from a vicious prison gang called Aryan Steel.
The gang want father and daughter dead — they've already killed Nate's ex-wife, Polly's mother — so the pair take off in a stolen car in a desperate attempt to escape.
Carrying her teddy bear, Polly is a girl with 'gunfighter eyes' and the temperament to match. She becomes her father's partner in crime, a young Bonnie Parker to his Clyde Barrow, and every bit as adept at violence as he is.
The race across the country is as fast and furious as the TV screenplays that Harper writes, but there is also such an unmistakable warmth in this portrait of father and daughter that it brings tears to the eyes
14 September 2017
THE GIRL WHO TAKES AN EYE FOR AN EYE by
David Largercrantz (MacLehose £20)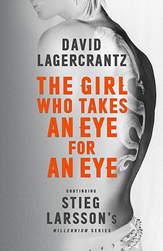 This fifth thriller in the Millennium series, initiated by the late Stieg Larsson's The Girl With The Dragon Tattoo, continues the life of enigmatic, belligerent computer hacker Lisbeth Salander. Here we find Salander in prison, determined to protect a vulnerable fellow female inmate who is being tortured by a prison gang.
Add a warden who is frightened of the gang as well as Salander's troublesome twin sister Camilla, with links to Swedish crime and the Russian mob, and you have all the ingredients to allow Salander to wreak havoc, helped, as ever, by investigative journalist Mikael Blomkvist.
Expertly told, the plot crackles with life. Sadly, I have never warmed to Lisbeth — too stony, too relentless, too charmless — but there is no denying the spell she weaves over millions.