30 August 2018
JUST BEFORE I DIED by
S.K Tremayne (Harper Collins £12.99, 384 pp)

There is more than a hint of Daphne du Maurier in this gripping thriller. Set in the heart of Dartmoor, it evokes a chilling, creepy world which threatens to unhinge the heroine, Kath Redway.
She thought she had a perfect marriage to Park Ranger Adam, although their shy, gifted nine-year-old daughter Lyla seems a little strange. Could there be a hint of Asperger's? Then Kath plunges her car into a lonely reservoir late at night. She survives, but cannot clearly remember what happened — there are only flashes of memory.
What is not in doubt is that her husband is now cold and angry, while her daughter is perpetually spooked and afraid of her father. Gradually, the truth about what she thought was a skid on ice begins to surface . . . Tremayne's evocation of the moor and its ancient ghosts is masterful, while his depiction of his heroine's anguish is superb.
30 August 2018
THE DRAMA TEACHER by
Koren Zailckas (Crown £22.50, 400 pp)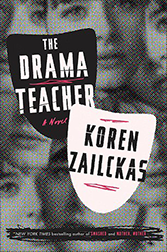 On the surface, Gracie Mueller is a proud mother of two and devoted wife of an estate agent. But in reality she's the daughter of a lifelong con artist who taught her his tricks, and she survives by using her exceptional talent to take advantage of anyone she meets.
She succeeds, but only by killing along the way. Gracie eventually transforms herself into Mariana DeFelice, an architect, designer, musician and actress.
After fleeing upstate New York with her children when a friend gets too inquisitive, she ends up in Manhattan and decides to get them into the most expensive school in the city — by any means she can. Even more astonishingly, she ends up as the school's drama teacher.
But can she keep her past hidden, and sustain the subterfuge that is her entire life? Supremely entertaining and elegantly written, the book is a wicked pleasure.
30 August 2018

A TREACHERY OF SPIES by
Manda Scott (Bantam £16.99, 480 pp)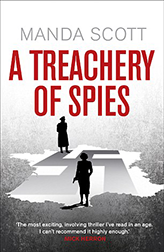 A strikingly beautiful woman in her 90s is found murdered in Orleans, France, but it is the manner of her killing that jolts the imagination. Her tongue has been cut out — the same fate that befell traitors to the Resistance during the country's occupation in World War II.
Inspector Ines Picaut starts to trace her identity, but to unlock the mystery she has to return to those who remember the dangerous days, when agents from Britain's Special Operations Executive parachuted into France to help the Resistance.
Jumping back and forth over 70 years, the story reveals the victim's true identity was disguised decades ago. Her life may have been taken by someone who believed she turned traitor to save her own skin.
Lyrically told, the plot is peopled with real heroes and villains. None is quite what