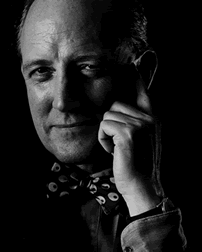 Geoffrey Wansell:
Daily Mail, 18 December 2013.
A nasty little thug to the end: For 36 years Ronnie Biggs, a serial crook who may well have killed the Royal Mail train driver, gave two fingers to justice. So why did so many treat him as a lovable rogue?
• Legendary criminal died at North London home at the age of 84
• He had been in poor health since returning to Britain from Brazil in 2001
• Found fame as he taunted the authorities during his decades on the run
• Biggs was part of the gang which targeted a train in 1963 and made off with £2.6million in cash - worth £40million today.
No one could call it a glamorous end. When Ronnie Biggs died in the early hours of yesterday in a care home in East Barnet, London, at the age of 84, he was a wreck of a man.

Fed through a tube, he was unable even to mumble after a string of strokes.

Time had finally caught up with Biggs, a self-serving fantasist who lived off his notoriety as the Great Train Robber and tried to convince everyone he was the most glamorous crook of modern times, the hero of a 16-man gang that stole from a Glasgow-to-London mail train 50 years ago.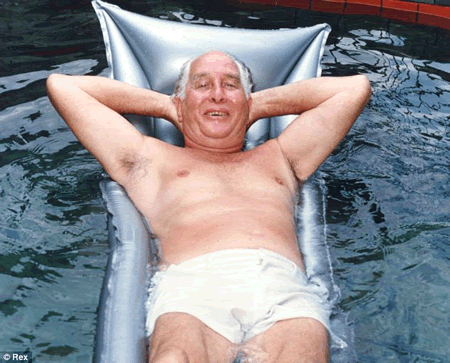 The good life: Biggs enjoyed being a 'celebrity' in Brazil, where he would sell
t-shirts to tourists.
Biggs in a police mugshot from 1963, left, and defiant to the last at the funeral earlier this year of Bruce Reynolds.
The reality, of course, was that Biggs was nothing but a small-time felon who made his 15 minutes of fame last an astonishing 36 years by escaping from prison and a 30-year sentence.
He fled first to Paris, underwent extensive plastic surgery, then to Australia, and finally to Brazil, which had no extradition treaty with Britain.
Biggs only returned to this country and its free health service to serve the rest of his sentence in 2001 after the first of the strokes that finally killed him.
Eight years later he was released from custody on 'compassionate grounds' because the then Justice Secretary Jack Straw believed he would not survive.
Once again, Biggs had outfoxed the British penal authorities - he survived a further four years. He likened himself to the cheeky villains of the legendary Ealing comedy The Lavender Hill Mob, who stole a fortune and escaped to South America - yet he was not even a significant figure in the Great Train Robbery gang.
Millions of people in this country hold some romantic notion of the Great Train Robbery in that far-off summer of 1963.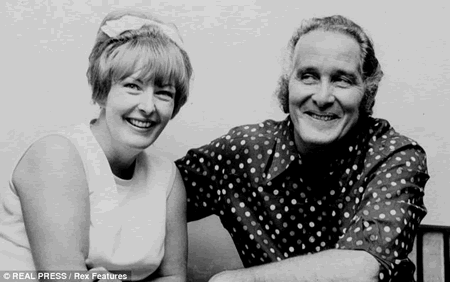 On the run: Biggs with his first wife Charmian. They divorced in 1974.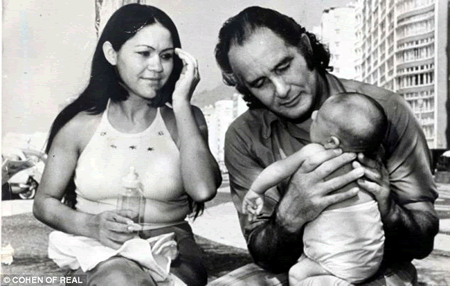 In Brazil: With girlfriend Raimunda and their baby Michael in 1975.
It was daring, the sum stolen was a fortune - the gang got away with £2,631,684, worth an estimated £46 million today - and Biggs's escape so audacious that it was easy to overlook the fact the train's driver Jack Mills suffered injuries from which he never recovered, dying seven years later.
Some unconfirmed reports suggest it was Biggs himself who hit Mills with an iron bar.

Biggs later spoke of his regret that Mr Mills had been injured, but added: 'He was not the only victim. The people who paid the heaviest price for the Great Train Robbery are the families.
'All have paid a price for our collective involvement in the robbery. A very heavy price, in the case of my family. For that, I do have my regrets.'
Despite this, Biggs came to believe the movie fantasy of a crook in the sun with girls on his arm, cocking a snook at the law.
'One report said that during my time on the run I've had 2,500 girlfriends,' he boasted. 'I've been on the run for over 30 years, I have got to have had more than that.'
But the reality was more mundane. His share of the proceeds - £147,000 - was squandered within three years of his escape. Afterwards, he simply lived on his notoriety.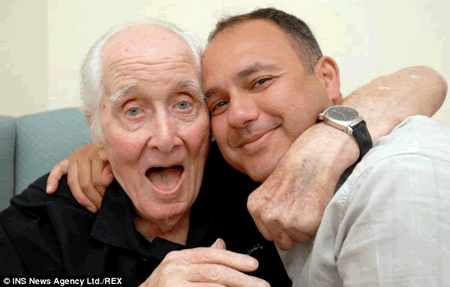 Old age: Biggs with his son Michael who paid tribute to his father and said he hoped to bury his ashes in Brazil.
This did not last for ever and by 2001, with his health failing and his telephone cut off, he was in penury and began negotiations to return to Britain. He couldn't afford to pay his medical bills and wanted the NHS to care for him - his comfort paid for by our taxes.
After an intervention by the then Labour Foreign Secretary, Robin Cook, to get him a new British passport, Biggs landed back in this country in a private jet provided by The Sun newspaper.
In a surreal over-reaction, he was met on his return by almost 100 policemen - and arrested. Within hours, he was behind bars, a common criminal with 28 years left of a 30-year sentence left to serve.
At a press conference to mark his return, his Brazilian-born son Michael, then 26, broke down in tears, fuelling the grotesque idea Biggs was a heroic figure being treated unjustly.
One thing is certain: other more senior members of the gang never enjoyed his creature comforts or passed away peacefully in a hospital bed, as he did. Charles Wilson was shot dead outside his Spanish villa in 1990, while Buster Edwards hanged himself in 1994.
For his part, Bruce Reynolds, who masterminded the robbery, died in February this year at the age of 81.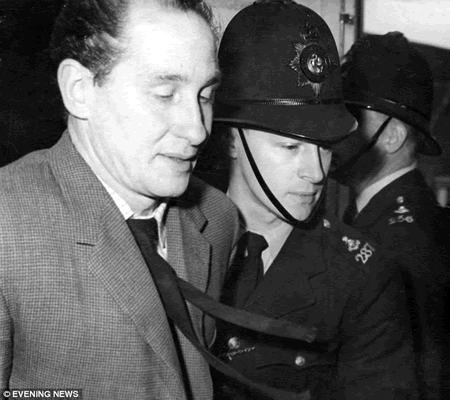 Arrest: Biggs pictured after being apprehended by police in the wake of robbery.
His funeral was one of the last times Biggs was seen in public. He seized the opportunity to stick two fingers up to the photographers from his wheelchair. He still saw himself as the star of the show.
In a grim mockery of the truth, Biggs even came to call himself 'an innocent victim' of the crime.
'At least the Great Train Robbery made me into somebody . . . there's a difference between criminals and crooks. Criminals blow some guy's brains out. I'm a crook.'
Biggs exploited his infamy relentlessly, selling T-shirts on the Copacabana Beach bearing the slogan 'Rio - a great place to escape to', signing photographs with the words 'Crime doesn't pay - not much', and charging visitors for meeting him, calling it the Ronnie Biggs Experience.
Ronald Biggs was born in Lambeth in 1929, the youngest of the four children of a London bus driver.
At ten, he started to steal from local shops. At 15 he made his first court appearance, charged with stealing pencils from Littlewoods.
While in the Royal Air Force, he was charged with breaking into a chemist's - which brought a six-month prison sentence - and given a dishonourable discharge.
After his release, Biggs embarked on a full-time career of crime and within a month found himself in Wormwood Scrubs, where he met Bruce Reynolds. Over the next ten years, Biggs was in and out of jail.
It was in 1957 that Biggs met Charmian Powell, a headmaster's daughter, whom he seduced after their eyes met on a train. He was 28, she was just 17.
'In less time than it takes to say "rabbit" we were making mad passionate love in hotels, empty train carriages, and on the floor of the classroom (where Charmian's father taught),' he recalled in an autobiography, published in 2011.
She became the small-time crook's wide-eyed moll, and would accompany him on his nefarious jobs, once ending up on the women's wing of Exeter prison.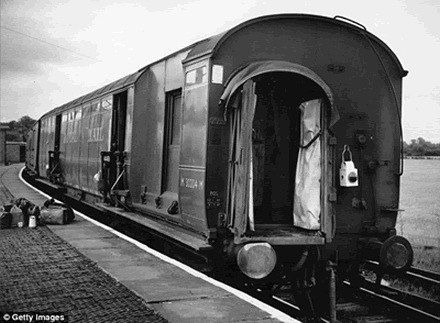 Target: The train after it had been ransacked by Biggs and his fellow thieves in Buckinghamshire.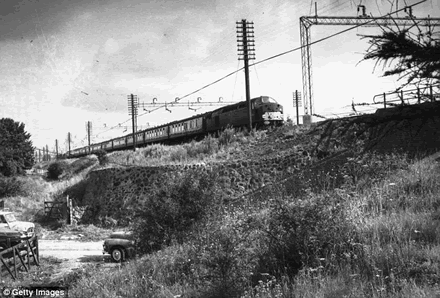 Scene: The train parked on an embankment in Buckinghamshire in the aftermath of the robbery.
And in 1960, when Charmian was still only 20, they married, settling in Redhill, Surrey, where Biggs attempted to go straight and started a building business.
Their first child, Nicholas, was born five months later followed by a second son, Christopher in 1963, just as Biggs was trying to raise the deposit to buy a house.
His old crony Bruce Reynolds, with perfect timing, asked if he'd be interested in 'a big job' for 'a minimum whack of £40,000'. Biggs leapt at it.
Reynolds had found out that large sums of money were transported from Glasgow to London by train, and he had assembled a gang to rob it. They included ex-boxer Buster Edwards, racing driver Roy James, and armed robber Charlie Wilson.
In the early hours of August 8, 1963 - Biggs's 34th birthday - Reynolds and his gang stopped the mail train at Sears Crossing in Buckinghamshire by putting a glove over one green signal, and wiring two batteries to show amber and red signals.
They stole 120 mailbags, later reported to contain £2,631,784. 'I can remember emptying those Post Office sacks that night and seeing money flying about in front of my eyes,' Biggs recalled.
It was subsequently estimated that, in fact, the gang's haul was nearer £7 million, all in unmarked banknotes.
The gang had based themselves at Leatherslade Farm nearby and planned to hide there for a month after the robbery.
But they panicked and fled when they heard the police were to search every house within a 25-mile radius of the railway line. It was their fingerprints at the farm that led to their arrest.
Twelve of the 16 gang members were brought to trial - the other four have never been identified - in January 1964 at Aylesbury.
The judge called Biggs a 'specious and facile liar'. He was sentenced to 30 years but, just 15 months later, he escaped from Wandsworth prison by climbing a rope ladder dropped over the wall and jumping onto the roof of a removal van.
After paying £40,000 for a false passport, he was spirited from London to Antwerp on a freighter, and did not return to this country for 36 years.
From Antwerp, Biggs made his way to Paris, then to Australia to work as a carpenter in Melbourne, using the alias Terry King.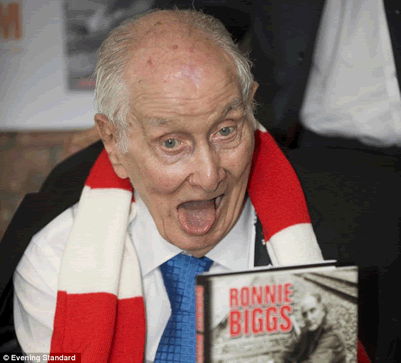 Old age: Biggs shown launching his memoirs in 2011, when he was afflicted with illness.
In 1966, Charmian joined him - using a false passport - with their two sons. A third son, Farley, was born in Australia.
Biggs's freedom in Australia was not to last. In October 1969, Interpol discovered his whereabouts.Leaving his wife and family again, he took a boat to Panama before travelling to Rio de Janeiro, where he arrived in March 1970.
Swearing his undying love for Charmian, Biggs promised they would be reunited in Brazil.
Yet within days of boarding the ship, he was being unfaithful to her with a lovelorn English passenger called Molly. Biggs was never to be re-united with his wife or sons.
In 1971 he refused to attend the funeral of Nicholas, who had been killed aged ten in a car crash in Australia.
And in 1974 Biggs insisted, without warning, that Charmian divorce him. She still lives in Australia, as do the couple's surviving two sons.
Biggs became a celebrity. Eventually, his notoriety led Detective Chief Superintendent Jack Slipper of the Flying Squad to fly out to Rio to try to arrest him in February 1974.
Slipper's attempt to extradite Biggs to Britain failed because the robber's then Brazilian girlfriend, Raimunda de Castro, was pregnant with his child, giving him immunity from extradition. Soon after the divorce from Charmian, Michael was born in Rio.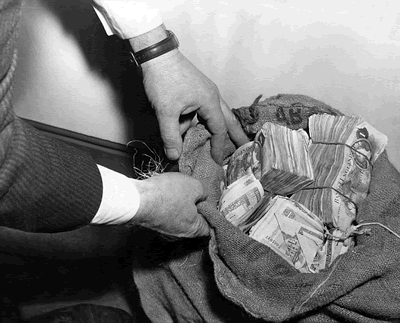 Haul: Two sacks of bank notes, believed to be some of the proceeds robbery found in a telephone kiosk in Southwark - much of the money was never found.
In the years that followed, Biggs opened a nightclub, made a record, No One Is Innocent, with the Sex Pistols, posed naked for Playboy, wrote two autobiographies and even appeared in a TV ad for wigs.
In the early Eighties, a group of Scots Guards forced him aboard a schooner and set off for Barbados, where they presented him to the authorities. But the Barbados court ruled that he should be returned to Brazil.
Finally, in 1997, and with a new criminal extradition treaty with Brazil in force, Britain asked for Biggs to be returned. By this stage, Raimunda had left him, saying Biggs was 'an unprincipled womaniser'.
Once again, the Brazilian authorities declined to return him - this time on the grounds the country's law did not allow for the punishment of an offender after 15 years.
However, just months later, Biggs suffered his first serious stroke. Frail, housebound, and barely able to speak, he celebrated his 70th birthday in 1999 by inviting almost 100 fellow criminals, including Bruce Reynolds, to his flat in the St Teresa suburb of Rio.
Eighteen months later, after two further strokes, Biggs decided to return to Britain. He expected to be hailed as a hero, saying: 'I am a sick man. My last wish is to walk into a Margate pub as an Englishman and buy a pint of bitter. I hope I live long enough to do that.'
But on his return to Britain in May 2001, Biggs was greeted not by cheering crowds but by the warders of Her Majesty's Prison Belmarsh.
Ronnie Biggs was no glamorous star, no modern Robin Hood robbing the rich to give to the poor. He was a crook who spent a lifetime trying to persuade the world he was a hero.
He failed - and no one should mourn him for a moment.