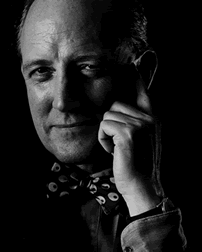 Geoffrey Wansell: Daily Mail, 4th May 2010.
Lynn Redgrave: The girl who just couldn't get along with being famous.
The gentlest and most approachable of the Redgrave acting dynasty, and child of British theatrical star Sir Michael Redgrave, Lynn Redgrave - who died in the U.S. yesterday at the age of 67 - never quite received the plaudits she deserved.

The epitome of Swinging London:
Lynn Redgrave in 1967's Smashing Time
Her elder sister Vanessa, and elder brother Corin, who died last month, were always seen as the true inheritors of their father's genius.
But that was less than fair. In fact, Lynn was an accomplished and serious actress who, though she wore the talent lightly, proved it in her performance as the naughty minded, freethinking Georgy Girl in the 1966 hit film that won her an Oscar nomination.
In truth, she was never quite as outrageous as her hippy character in Silvio Narizzano's hit, but she failed to escape the 'kooky' image that the movie brought her.
In reality, Lynn Redgrave was a serious, sometimes over-thoughtful actress, who disliked the celebrity given by her family's name, but she was also very much aware that it helped her create a reputation.

Vanessa, born six years before her, was always regarded as the star but, in spite of that, Lynn managed against the odds to establish her own career.
As she explained in 1999, 'Vanessa was the one expected to be the great actress. It was always "Corin's the brain, Vanessa's the shining star, and then there's Lynn".'

Which was far less than just. Lynn had a gentleness and charm that none of her siblings, nor even her talented mother Rachel Kempson, could match.
But there is an element of darkness in the Redgrave dynasty that cannot be ignored.
Lynn's death comes a year after the death of her niece Natasha Richardson in a skiing accident and barely a month after her brother Corin.


Her son Ben and her daughters Pema and Annabel were with her when she died peacefully on Sunday evening in her home in Connecticut. She'd fought a seven-year battle with breast cancer.
'She lived, loved and worked harder than ever before,' her children said in a statement.
'The endless memories she created as mother, grandmother, writer, actor and friend will sustain us for the rest of our lives'.
It is a fitting tribute to an actress who never sought fame, but who simply loved to work. Her determination and talent brought her an Oscar nomination not only for Georgy Girl, but also for Gods And Monsters, in which she starred opposite Sir Ian McKellen.


Numerous other films, including the 1967 satire Smashing Time in which she starred with Rita Tushingham, were a critical success.
She also received Broadway Tony award nominations for three shows, including Mrs Warren's Profession - currently showing in London with Felicity Kendall.
In recent years, she made appearances in the TV shows Ugly Betty, Law & Order and Desperate Housewives.
Her play Nightingale touched upon her marriage to John Clark, who had revealed he had fathered a child with the future wife of their son.
Last year she finally accepted the inevitable and ended her 32-year marriage to the actor-director.
With her striking red hair, easy manner and ebullient personality, Lynn was the least frosty of the younger Redgraves - not for her the Left-wing belligerence of Vanessa and Corin.
In fact, she had what her acting colleagues called 'heart'.


Tall, blue eyed and with a face so open that is almost defied definition, she wasn't afraid to wear her heart on her sleeve in roles like Black Comedy On Broadway in 1972 and two years later in My Fat Friend about an overweight young women who loses pounds to find love.
It would impossible to imagine her sister playing the part.
Born in London in March 1943, there was no escaping the family tradition and she ended up training at the Central School of Speech and Drama before making her debut in A Midsummer Night's Dream in 1963.
Almost immediately ushered into the new National Theatre Company directed by her father's old friend - and rival - Laurence Olivier, she found herself working relentlessly throughout the 1960s acting explosion that became known as 'swinging London'. But it wasn't the theatre that brought her fame.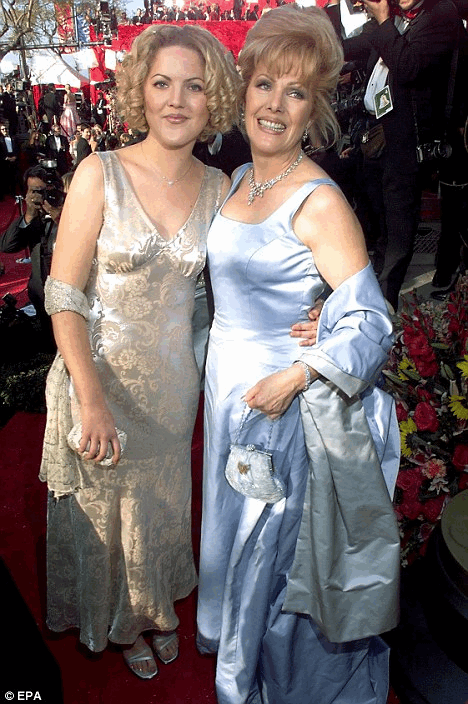 Doting mother: The actress with daughter Annabel at the 71st Annual Academy Awards in 1999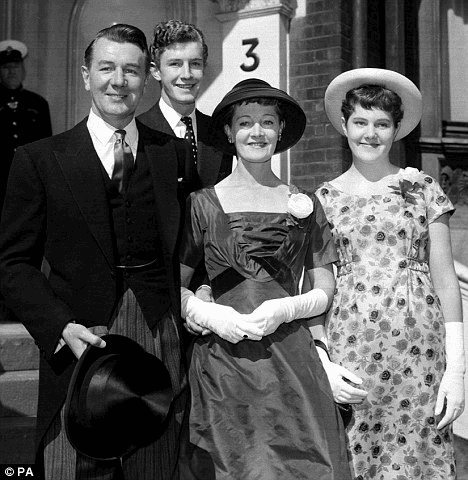 The way they were: Lynn (far right) in 1959 with father Michael, mother Rachel Kempson and brother Corin.


At the age of 23 it was a film about an unattractive girl fancied by her middle-aged-employer, played by James Mason, called Georgy Girl - where she was billed as 'the wildest thing to hit the world since the miniskirt'.
Redgrave commented 30 years later: 'All the films I've been in - and I haven't been in that many attention-getting films - no one expected anything of, least of all me'.
It made Redgrave a star. But over the next 20 years she struggled to sustain a career and to keep her weight under control, acknowledging she suffered from bulimia.

The shadow of her famous father, who died in 1985, seemed to haunt her.
'I didn't really know him,' she said. 'I lived in his house. I was in awe of him and I adored him, and I was terrified of him and I hated him and I loved him, all in one go'.
It did not make for an easy personal life, though Lynn, appointed an OBE in 2001, did her best to conceal that fact.

Wilful, talented, deeply sentimental and yet also an actress of astonishing determination, Redgrave may not have made quite scaled the heights of her father, mother, sister or brother, but she deserves to be remembered and loved for her frailty and compassion.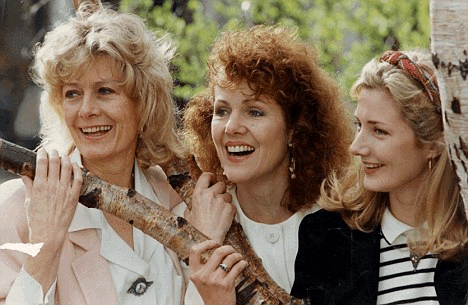 Women of the Redgrave dynasty: Vanessa, Lynn, and Joely Richardson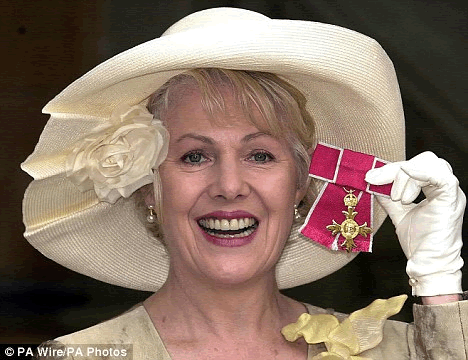 Great honour: Redgrave after receiving her OBE from the Queen in 2002